Welcome to our 48th season of bringing live theatre to north Lincoln County. We have a great set of plays for you, and maybe a couple of extras thrown in for a bit more enjoyment.

Tickets: Adult: $20 – Senior: $18 – Under 13: $15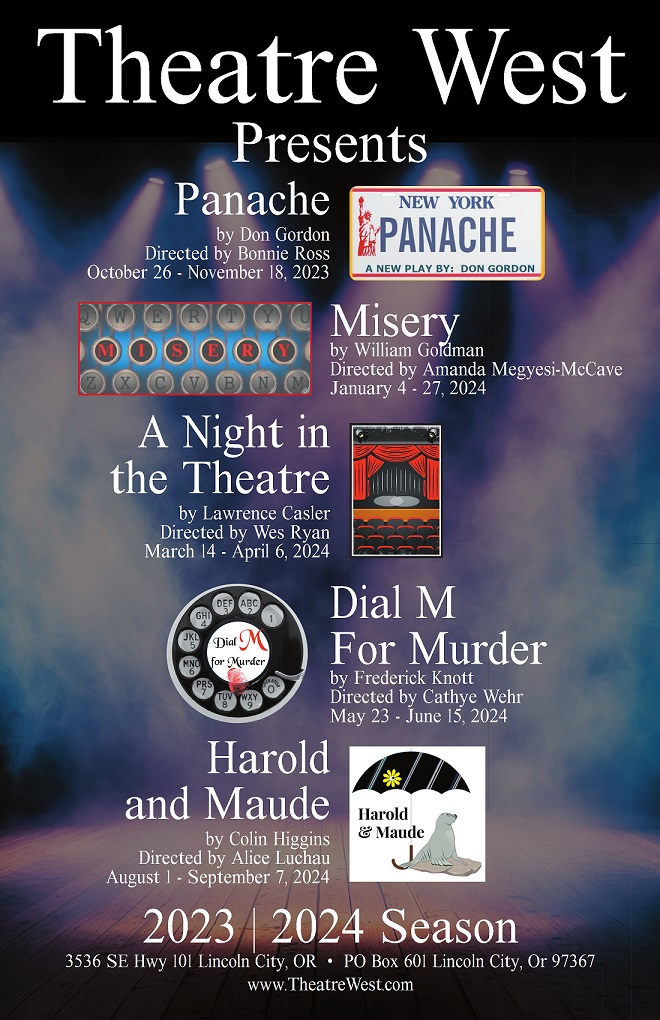 There is never a bad time to renew your membership or to become a new member. However NOW is the best time. You can mail your dues or click here and do it all online! We welcome members near and far. Use the membership page to to let us know how you might want to volunteer. If you don't find what you are looking for, write in how you would like to be involved.
Theatre West, LLC
PO Box 601
Lincoln City, OR 97367
541-994-5663
[email protected]
————————————————————————————————-
Current Season
Written in 1987, Stephen King's psychological horror novel Misery tells the story of Paul Sheldon, a best-selling American author of a series of romance novels set in the nineteenth century, featuring the protagonist Misery Chastain. Paul finds himself in a "situation where he was not just writing for his supper but for his life" when his self-proclaimed "number-one fan", a middle-aged, former nurse named Annie Wilkes, rescues him from a car accident during a snow storm in Colorado. Annie's fandom, though, turns out to be a dangerous obsession. Paul fights for his life as Annie's mania turns more perilous and Paul races to finish the novel Annie has forced him to write, Misery's Return.