2023 Annual Meeting and Volunteer Appreciation Event
WHEN: Sunday, September 10, 2023
2:00pm to 5:00pm
WHERE: Theatre West 3536 SE Hwy 101 Lincoln City
WHAT: Meet & Greet / Food / Tours / Entertainment / Election of Board / Year in Review/
and more!

New (old) Seating Installed August 2022
Reduce – Reuse – Recycle
For many years, we have been the home of bench seating. Some loved it. Some did not. The Elks Lodge had to replace their seating to be more flexible in what they could do in their facility so they offered the seats to Theatre West. The offer was accepted and the race was on to make the change.
Since the change could not be made during the run of a show, it had to be done between the end of Savannah Sipping Society and the opening of Epic Proportions. Director Bonnie Ross and the cast of Epic Proportions put up with the disturbance during their rehearsal period and the show opened on August 18, 2022 with the new seating in place. Thank you for your patience and to those who worked so hard to remove the old and install the new.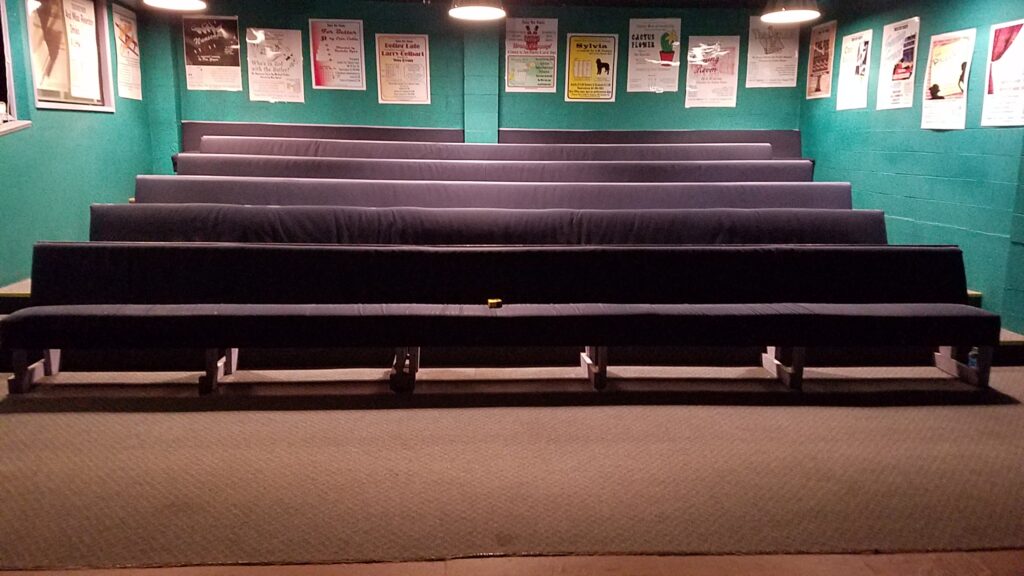 ____________
The Great Green Room Cleanout May 2022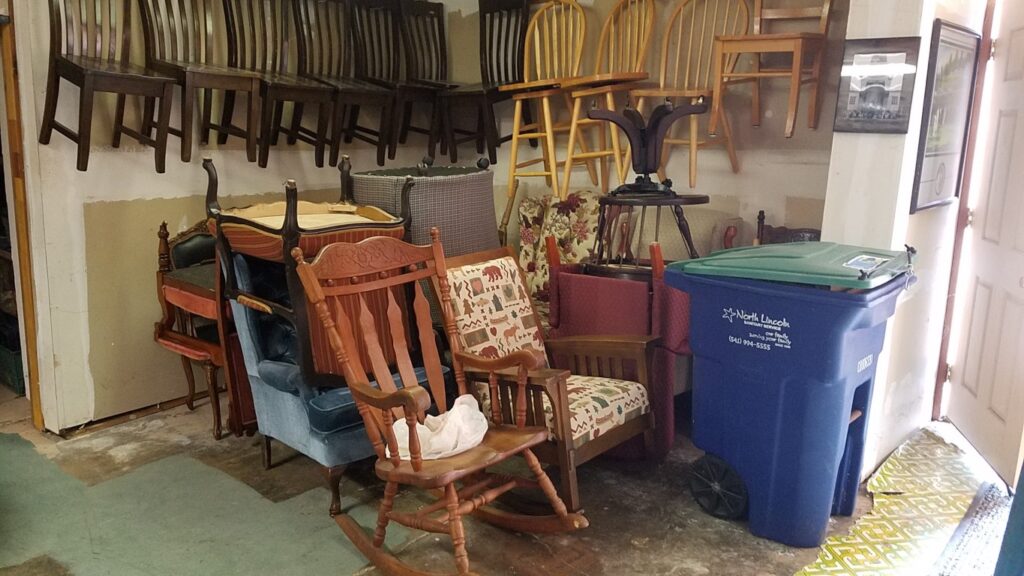 Theatre West has been performing plays at its current location for over 40 years. We can't say for sure when the last time was that we completed a full clean out of the green room. It was way past time to do so. With our task mistress, Bonnie Ross, driving the project, it was certain to get done. However, it would never have reached a successful end without many volunteers stopping by over a 4 week period. Thank you to all who gave a little or a lot of your time. Just look at what we accomplished.
Lumber and paint storage moved to a single location – what a concept!
A shop area was established for all the tools, both big and small.
The back kitchen is cleaned and usable, complete with refrigerator and microwave.
Back bathroom is once again clean and usable without being scary.
All varieties of set furniture is neatly stored in back room
We have established a special "chair corner" in the green room
All prop storage is now in the green room
Carpets and rugs are horizontally stored in green room
Holiday lights and decorations tested, sorted and labeled for storage and easy retrieval
The script library is now clearly designated and accessible – over 600 scripts!
New aisles make all items easy to access for removal AND returning to its place
Costumes have a new offsite storage area where they will stay cleaner and remain organized
We found some things, too:
Six electrical outlets that had been block, but now will be easy to use
An additional storeroom !!
Multiple fog machines, electric fire logs, assorted props and space heaters.
Of course we tossed a few things:
Instead of listing all the things that were tossed or donated, we can just say we regained more than 20 cubic feet of space, maybe way more.
THANK YOU
North Lincoln Sanitary Service and
all the volunteers who helped make this clean out happen
quickly and pretty efficiently.